Action at Chase Boston: Stop Funding Fossil Fuels! Passover Action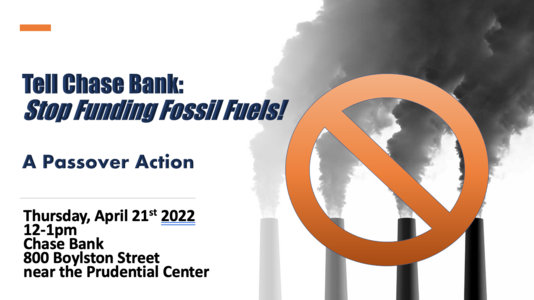 Passover is a celebration of freedom. The holiday carries many lessons today as we face the climate crisis, working to free ourselves from the destruction of the fossil fuel economy and create a world where everyone can thrive.
On Thurs, April 21st, during the week of Passover, Jews and allies will gather at noon outside the Prudential branch of Chase Bank, the institution that currently tops the list of banks funding the fossil fuel industry across the globe. Together, we will publicly proclaim today's fossil-fueled plagues like flooding, wild fires, and other extreme weather events. We will call on Chase to divest from fossil fuels and become a force for good at this moment when the need to transition to renewable energy is so urgent.
We mourn the war in Ukraine and the loss of life, and we recognize how fossil fuels are funding the invasion of Ukraine (and how renewable energy can make us all safer). We will call on banks and asset managers to stop their investments not just in Russian oil and gas but in all fossil fuels.
Temple Israel of Boston's Dayenu Circle
Starts on
Thursday, 21 April 2022 at 12:00 PM EDT
Ends on
Thursday, 21 April 2022 at 1:00 PM EDT